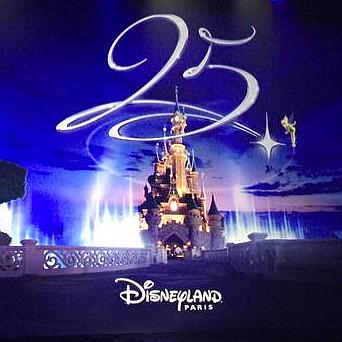 The 25th anniversary of Disneyland Paris is fast approaching. There is still lots of rumours and speculations about what will be new and nothing yet confirmed. So I thought I would share with you what I would love to see at Disneyland Paris for the 25th. Just so you know some of these may seem a bit over the top, but surely I can dream!
(Spoiler: Even though it is not technically the Walt Disney Studios anniversary, I have included some aspects of that park into my list).
10. A new Parade!
This is likely to happen, as there are rumours that Disneyland Paris will actually get a new parade. After 5 years it is actually well needed – well there are floats in there that are even older! Honestly, I think they need to get rid of it all and start a fresh. I would also love it to be something specific for Disneyland Paris, and not just a hammy down from Tokyo/Hong Kong. I know this is quite a big dream due to the suspected cuts due to Shanghai, but surely a girl can dream.
9. A new Parade Song!
This fits with the parade. Obviously with a brand new Parade there has to be a new parade song! Magic Everywhere is a classic song, but it's been around way to long now. So please please please give us a new song to Dance to. Once again I would love it to be something specific to Disneyland Paris and not just a hammy down.
8. More characters!
I have mentioned about my feelings about characters here so I will try and not go into much detail here. Just give us a new meet and greet for "NEW" characters, or even Anna and Elsa and I, like many fans, will be very happy.
7. Better quality of food!
I do think that the food quality in Disneyland Paris is improving, but I am not sure it is there. Even though the food needs to be mass produced to accomodate all visitors, I just think that it is a bit poor. Don't get me wrong there are some wonderful places to eat in the parks, there are not enough.
6. Increase the food options in Bistrot Chez Remy.
This is something I will continue to say until it happens. During my visit in January, I absolutely adored the food and would quite happily go again, the only problem was the lack of choice. The steak main was delicious, however it would have been beneficial to have had a couple of choices, such as with the Starter. In my opinion the restaurant would be perfect if they just had a little more choice.
5. A new show!

If any of you have visited Disneyland Paris for many many years, you may remember that the Castle stage used to have some amazing shows, such as the one with the big book (I can't remember what it is called) and also the  Winnie the Pooh show. Yes it used to be absolutely freezing sat waiting for the show, even in the summer months, but once it started it was wonderful. Also what would be better than having the backdrop of the castle too! Yes they have removed the seats, but surely seating can be placed relatively cheaply.
Thinking crazy now, there could be an introduction of 2 shows! Another could be in Discoveryland Theatre. I would love to see a StarWars themed show, or something a bit futuristic in there really. I do remember in the earlish 90s Disney characters would walk about in Space Suits, so maybe that could be a thing. I don't know really.
Either way, I am not too sure what kind of show I would like, anything would do, I'm not fussy.
4. More Streetmasphere
This is something I am not really sure how to spell, you know being a made up word. Anyway, I think that the Disney parks are really lacking things going on around the parks. Especially now that the characters seem to be confined to their specific meet and greet spots, there isn't really anything going on around the park. I was not really fond of the 'Victorians' on Main Street during Spring, as it all seemed a bit false, but live music would not go a miss. A band playing Disney songs here and there, that would be wonderful and would provide something a little bit different.
3. A card that can do EVERYTHING! 
This is something I thought up quite recently, after hearing about the new card systems that are slowly introduced. Anyway… if any of you have used the Shopping Service at Disneyland Paris you will know that you have to sign and fill in what seems like thousands of pieces of paper. If you are stood behind someone in the queue whilst they are filling them in, it can be really annoying. Therefore, my idea involves using the card that will soon be an 'all in one card' to have the details of your hotel and name so all you have to do is swipe the card, it prints off two receipts (one for the cast member, one for the customer) and then off it goes. Surely that would be quicker and simpler than messing about with all the form filling… Either way, I am sure the technology is available for this to be done. So please can we have a nice easy simple park pass, that does everything you need.
2. A NEW Firework show.
I am sick of Dreams! it's getting a bit too old for me now. Yes I do love watching it, and all of the projection mapping, but it is getting a bit old and boring now. Do not get me wrong it is a fantastic show, I just want something a bit newer.
1. Complete banning of Smoking and Selfie Sticks.
This is my number 1 for a reason. Even though there are enough rules here and there around both smoking and selfie sticks, they are rarely enforced. Honestly, I am sick of being in queues and having someone puffing smoke in my face. It's not good! Also being small it's annoying when a million and one sticks with phones on go and block my view of fireworks and parades. So please, can we have a complete enforcement of this. It's driving me and everyone else mental!
Thank you for reading my Top 10 things I would love to see at Disneyland Paris for the 25th anniversary!
What would you like to see at the 25th anniversary? Leave me a comment or send us a message on twitter @ejh92x
(Image copyright: Disneyland Paris)